Franz Liszt (1811 - 1886). Missa pro Organo, S.264. Selected pieces.
Transcription for Bayan (Accordion) by Anatoly Semeshko.
For bayan / accordion / accordeon / akkordeon solo
Language: Russian - English.
Number of pages: 8
Difficulty level: Beginner - Intermediate - Advanced
Bass: FREE

Here's zipped demo in JPG format
Content:
Franz Liszt. Selected pieces from - Missa pro Organo lectarum celebrationi missarum adjumento inserviens, S.264.
Transcription for Bayan (Accordion) by Anatoly Semeshko



1. Kyrie
2. Gloria
3. Offertorium (Ave maria)
4. Benedictus
5. Agnus Dei

- - -
N.B. a) These music sheets are distributed in PDF format. You shall receive an authorised copy with your name in it.
b) We can print it out for you as well on high quality 120g/m2 paper bound with a plastic sping
Price for

: 9 €

Price with printing out (at your wish): + 3 € + POSTAGE*

how to order

need advise?
Video demo: Franz Liszt. Missa pro organo: Kyrie.
Performed by Gábor Lehotka, organ
Video demo: Franz Liszt. Missa pro organo: Gloria.
Performed by Gábor Lehotka, organ
Video demo: Franz Liszt. Missa pro organo: Offertorium (Ave maria).
Performed by Gábor Lehotka, organ
Video demo: Franz Liszt. Missa pro organo: Benedictus.
Performed by Gábor Lehotka, organ
Video demo: Franz Liszt. Missa pro organo: Agnus Dei.
Performed by Gábor Lehotka, organ
Sheet music with arrangements, transcriptions, compilations by Anatoly Semeshko for Accordion / Bayan / Accordeon / Akkordeon /
Fisarmonica / Harmonika / Harmonica / Trekkspill / Dragspel / Harmonikka / Bajan / Akordeon: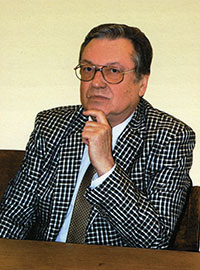 Anatoly Semeshko (01.08.1949, Apostolovo, Dnipro province, Ukraine)
is a famous Ukrainain bayanist, teacher, methodologist, active participant of modern social musical movements. He is an Honoured Artist of Ukraine (1993), Professor (1993), Academic of Petrovsk Academy on Sience and Art (Russia, St.Petersburg, 2007), prize-holder of "Silver Disc" of Gnesins Russian Academy of Music, secretary of Ukrainian National Musical Union, President of Association of Bayan and Accordion Players of Ukraine.
Anatoly Semeshko is laureate of all-Ukrainian (1977, Kyiv, 1st Prize) and diploma holder of the 1st all-Union bayan-accordion players competitions (1979, Novosibirsk, USSR).
He went on tours as a soloist as well as a participant of prefessional groups in many countries of Europe, Asia and America.
Anatoly Semeshko is the 1st performer of such compositions: V.Zubitsky "
Jazz-Partita No. 1
", A.Beloshitsky "Suite No. 2 - Romantic", Yu.Shamo "Sonata No.1", "
Partita-Piccolo
", "
Concert Diptych
", "
Variations
", "
Improvisation and Burlesque", "
Children Suite
".
During the years of pedagogical activity Anatoly Semeshko brought up the pleiad of skilled performers, conductors, teachers. Amongst them are: People's Artist of Ukraine, Shevchenko National Prize laureate, artistic director and chief conductor of National Honoured Academic Orchestra of Ukraine V.Sirenko, Merited Artists of Ukraine A.Ivchenko, V.Oliynyk, laureate of Kazakhstan State Prize, Merited Artist of Tatarstan D.Sultanov, laureates of many prestigious international competitions
K.Zhukov
,
B.Myronchuk
, V.Marunych, D.Zahorodny, O.Kolomiyets, D.Tylko, M.Hruzynsky, A.Tonkonogh and other.
Anatoly Semeshko is a main initiator and artistic director of the 1st in Ukraine International Bayan-Accordion Competition "Cup of Kryvbas", Vice President of International Competition-Festival of Professional Art of Bayan-Accordion Performance "Acco Holiday".
Anatoly Semeshko is a member of numerous national and international competitions, participant of international seminars and congresses of Confédération Mondiale de l'Accordéon. He was awarded two times with Honoured Diploma of this organisation for achievements in the sphere of musical pedagogics and for preparing the winner of "Coupe Mondiale" (1995, 2001).
Anatoly Semeshko is an author of numerous publications. Amongst them are: monographs, tutorials, books, chrestomathies, booklets and other. As an editor-compiler, author of transcriptions, forewords, comments and methodological recommendations he prepared and published the whole series of compilations of concert and pedagogical repertoire (around 50). He is an author of articles in press and specialised publications, both domestic and foreign.
| to the top |